LIMITED EDITION! Prop-Wise (Set of 3)
Includes free delivery within the UK. International shipping is currently available to Ireland, the Untied States, Canada and Australia.
SPECIAL OFFER! - GET 10% OFF YOUR ORDER TOTAL WHEN YOU BUY TWO OR MORE OF THESE (just add two or more to your basket and receive your discount on checkout).
PROP-WISE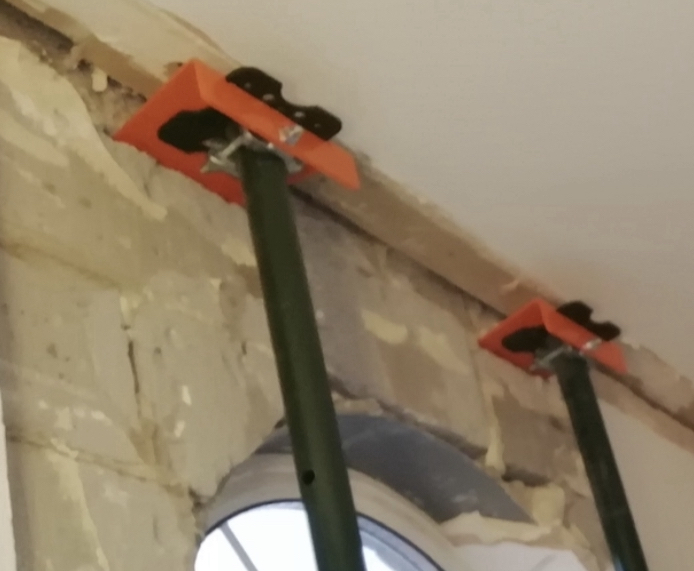 The safest tongued prop attachment on the market
–
Designed to use the Acrow Props head plate, to minimise curving of the inner tube
–
The only tongued prop attachment designed to support one side of a cavity wall and still maintain a sufficient safe working load.
–
 Includes 3 Prop-Wise masonry supports, Acrow prop guidance, instructions of use, masonry weight awareness chart  and free delivery within the UK,
 ONLY £100.00
–
PROP-WISE BENEFITS
Further & Safer Options.
No web to impede the fitting area.
Designed with a totally flat top to ease internal use. 
Designed to use the head plate so not to curve the inner tube of an Acrow prop.
Tightened securely onto an Acrow prop. 
Prop 4″ walls from the opposite side as the fitting/working side for a superior safe working load.
Fewer props within the work area upon larger openings.
Fewer fitting holes, less masonry damage.
Easy to store/fits in a tool bag.
500kg Max Safe working load.
 Superior factor of safety.
Simple to use without compromising safety.
Cost effective.
Support masonry with a superior factor of safety, instructions of use are provided and also available to print/read before purchasing via our instruction/download page.