THE AWARD WINNING BRICK BRACE SAFETY TOOL & SAFETY SYSTEM
Promoting Best Practice During Masonry Alterations
–
All prices include VAT & Prompt UK Delivery
–
When knowing every task of masonry alterations is different it will be planned upon its own merit and carried out safely by using a variety of temporary masonry support equipment which supports all of the masonry and gives the correct fitting/working access without dangerously overloading the structure above.
–
The stability & lateral strength of masonry is unpredictable & varies upon every task of which depends on the length of the opening, the mortar mix, the age & the quality of the masonry.
–
All existing propping methods rely on the unknown lateral strength of the masonry to work safely.
–
The Brick Brace increases the stability & lateral strength where needed and where totally neglected in the past.
–
SAFER MASONRY ALTERATIONS GUARANTEED!
 Brick Brace Half set £150.00 
Openings up to 3,150 mm (14 brick lengths) at any height high or low, with full access to the task & safely supporting all 91 bricks within the triangle of masonry above the opening within a typical Stretcher bond.

The fully tested Brick Brace safety tool is inserted into a drilled out mortar perpendicular joint and then tightened with a ratchet a spanner, increasing the unknown lateral strength of bonded lime & cement mortar masonry with a force of 40Nm which through vigorous testing is proven to be strong and stable enough to prevent collapse on site during alterations.
9″ Brickwork Example
The Brick Brace holds all of the un-supported brickwork

Green propped, Orange Braced.
(Props fitted internally when possible for clear fitting access)
–
 Full Set £275.00
Openings up to 5,400mm  with full fitting access when using a 6 metre aluminium scaffold beam over the opening.

SUPERIOR & SAFER RESULTS
Fit a permanent support with ease at any height, replace lintels, fit new cavity trays and D.P.C's with nothing to impede. Re-instate a load point to reduce the weight of the load & safely reduce the number of impeding props from the fitting area. The Brick Brace reinforces & stabilises masonry for a number of different tasks, including under pinning & window replacement and is a further aid for all remedial works, brickwork renovations & repairs.
–
NO LOST OR FALLING MASONRY & MINIMAL "MAKING GOOD"

Prop internally upon bonded 9″ to 13″ walls and brace externally for superior and safer fitting access.
WHY BRACE MASONRY?
It's urban myth that the Strongboy is suitable for every task, with the instructions changed by enforcement of the H.S.E in November 2015 and now read; "Before using a Strongboy you should identify that it is a suitable method to carry out the intended works".
–
A Strongboy was designed in the mid 1980's when openings were smaller and a cavity only 50mm but due to changes in construction design a typical cavity has now doubled to 100mm and 150mm+ upon newer properties for further thermal value and open plan living accommodation has also vastly increased the opening and steel sizes within a typical residential extension.
–
When fitted with a Strongboy or any other similar designed product an Acrow props safe working load decreases by at least 90%, from 3,400kg down to the maximum 340kg and can even reduce down to 0kg of which depends on the size & the working height of the Acrow prop, how plumb, how tightly fitted and how far the Acrow prop is positioned from the centre of the wall.
–
Attempting tasks which require longer and wider steels with welded top/bottom plates for wider cavities and still only using the out of date Strongboy increases the risk of collapse as the safe working load is severely compromised by over extending even further from the wall to gain more fitting space.
–
We created the Brick Brace to counter act all of the hidden problems of eccentrically propping and to make masonry alterations more controllable, safer and easier during the task.
–
Reduce risk of minor & major collapse by bracing the masonry when removing an opening down to the full depth to gain sufficient access for genie lifts within a forest of loaded Acrow props. The Brick Brace allows props to be maneuvered safely during a task. 

 Also use above openings when propping or needling to reduce the weight of the load to prevent collapse from overloading & to safely minimise the number of Acrow props within the fitting area, to hold the brickwork in-between props and to also support the masonry as one whole piece rather than individual bricks as in the case of only using existing propping equipment. 
–
A HELPING HAND FROM ABOVE!

SAFER & SUPERIOR FITTING ACCESS.
(Picture taken with a panoramic lens)
(Instructions are provided with every product we sell and also available to read/print via our instruction/download page, on-site demonstrations are also available).
–
Brick Brace safety tools are fitted three bricks apart in a cement mortar mix, a maximum of two and a half bricks apart in a weak/ lime mortar mix and within every perpendicular joint upon Block work.
–
Now in our seventh year of business, with tens of thousands of Brick Brace safety tools sold and used worldwide every year!
–
Pro Builder Magazines Product of The Year 2015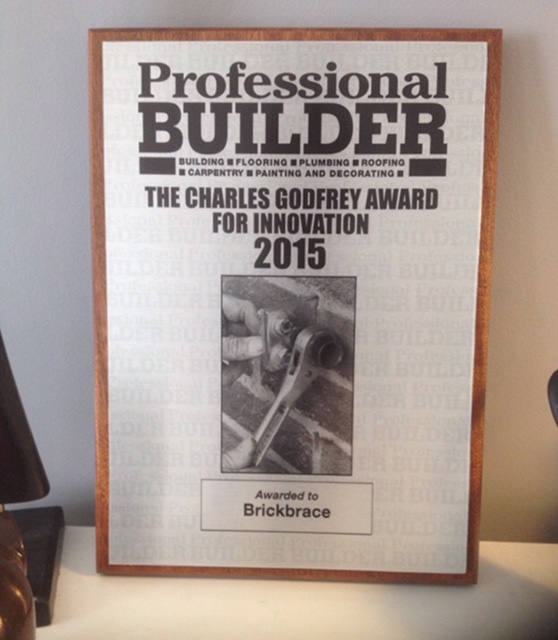 Recent E-Bay feedback
"I can't believe I've waited so long to use this product!! Brilliant."
–
We have studied temporary masonry support for many years, more than anyone before us, our fully patented method of strengthening masonry before any alterations take place is the further preparation required for safer and superior results, GUARANTEED!
–
FEEDBACK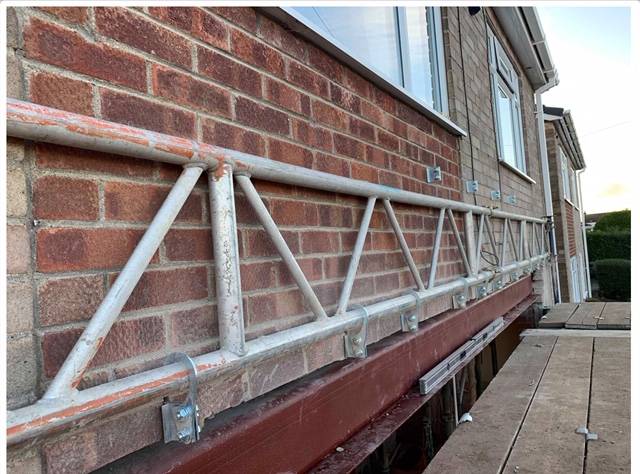 BRILLIANT! Saved a lot of time and the beam went in with very little effort and no lifting gear due to our scaffold platform. I would highly recommend this system and we will be using it for all opening works from now on.
J. Hoggard, Builder
East Riding Of Yorkshire
–
The Brick Brace is designed to offer further & safer options, to give superior results with a safer fitting/working access and when used in-conjunction with existing propping methods the Brick Brace holds all of the unsupported masonry in between props and also helps to prevent collapse through overloading for the vast majority of the different tasks of masonry alterations.
(Read our 2020 propping guide for further information regarding the many different scenarios of masonry alterations and find out why a variety of temporary masonry support equipment most suitable should be used).
–
Load-Point
Which masonry requires support?
–
A 45 degree angle upon half bonded block work, a 35 degree angle in a Stretcher bond and a 25 degree angle upon a Flemish or English bond, from both ends of the opening, carrying up to the central perpendicular joint where both angles meet is the location of a load-point.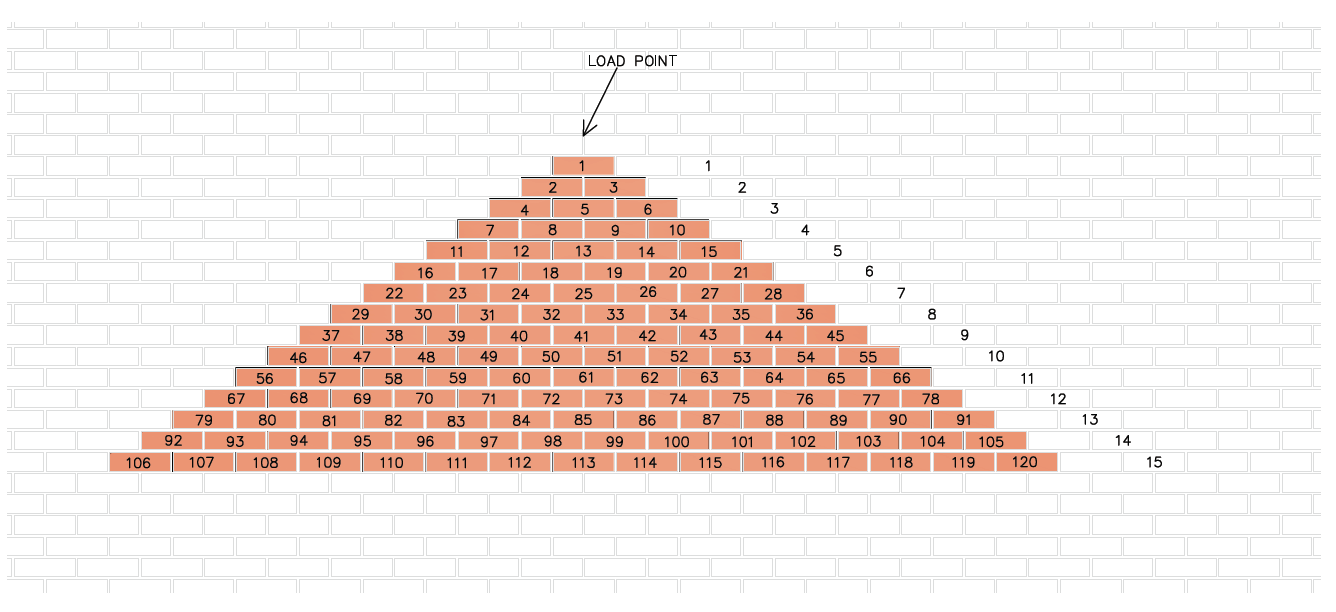 When an opening is made within an existing wall and a load point is intact, the triangle of brickwork above the opening is the only masonry that could collapse, therefore this is the only masonry that requires temporary support.
–

This small triangle of masonry is also what Strongboy's were designed to support when fitted 900mm apart and used within the 215mm maximum eccentricity.
–
Upon larger openings within a typical two storey residential property and any of the 3 points of the triangle do not remain, this law changes and all of the weight of the storey height above will rest back over the length of the opening (including roof loads, when they apply) due to the masonry above not safely arching.

This masonry can weigh up to 10 times more in most cases than just the smaller triangle and is why Strongboy's are so easily overloaded upon wider openings.
–
Fit the Brick Brace to reinstate a load-point, as shown within the drawing below to safely reduce the weight of the load back to the small triangle of masonry and to minimise the amount of impeding Strongboy's required without dangerously overloading the equipment.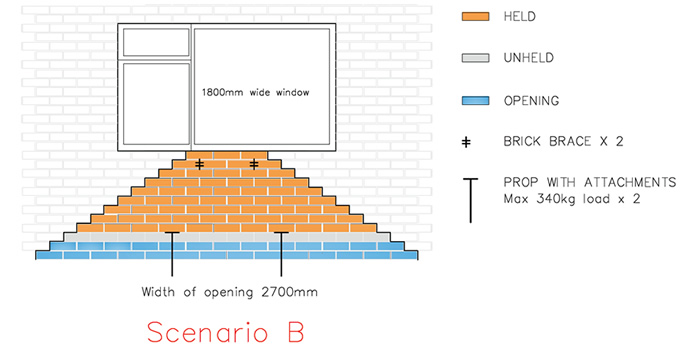 (Scenario C below, shows the Brick Brace Safety System being used within a lime mortar mix)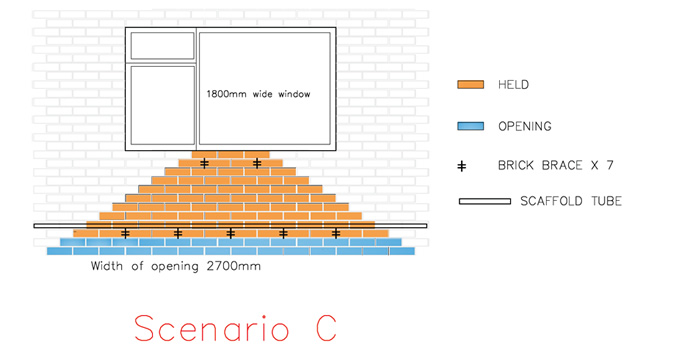 The Brick Brace Safety tool, weight charts, correct procedures & proven strategies address all the main causes of minor and major collapse during masonry alterations.
Please view our masonry weight awareness chart for further guidance.
–
Watch our video!
 Guaranteed to pay for itself within two applications!
To fit the Brick Brace Safety Tool you require a hammer drill with a 10mm masonry drill bit to remove the mortar from the perpendicular joint and a 19mm socket spanner to expand the inserted Brick Brace.
–
The Brick Brace safety system requires a scaffold tube,Hammer Drill, 8mm and 10mm masonry drill bits, 15, 19, 21mm sockets and a ratchet. The 40Nm torque required to expand the Brick Brace is similar to tightening a scaffold fitting. To remove the masonry below, use a disc cutter and a light set hammer drill with the correct chisel fittings, a masonry or traditional hand saw is sufficient for lime mortar mixes, full instructions and a correct procedure are provided and also available to read or print via our instructions/download page.


–
We Are Here To Help You Adapt!
For unbiased advice regarding any masonry alterations task contact us; 01895 546405
Or
Call Anthony On; 07545 462463
E-mail; sales@brickbrace.com
To help us help you, please read our 2020 masonry wall propping guide to ensure you give us sufficient information of your task.
 Or
Book A Brick Brace Demonstration On your own project, from as little as £500.00, Includes ½ day training & the Brick Brace Full Set.
–
 PROP-WISE
LIMITED EDITION
Propping internally when Bracing the external for superior access upon cavity walls
For a superior safe working load the Prop-Wise uses the top head plate of the Acrow prop, rather than the Acrow props inner tube.
Designed with a flat head to ease internal use at ceiling heights and fits neatly into a tool bag.
The safest method of propping 4″ to 6″masonry.
Using fewer Acrow props due to the reduced eccentricity of which also gives a superior safe working load.
The Prop-Wise is supplied with full instructions and Acrow prop guidance and is by far the safest tongued prop attachment on the market.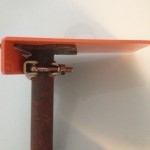 BRICK BRACE FEEDBACK
Mr S. Dunaway
 (Builder, Surrey)
 Top quality product.
After taking the time to read and understand what the Brick Brace has to offer, I can now appreciate the impact this system can have on improving the safety of structural alterations.
After all structural alterations are the only general construction based procedures where NO training or advice is offered to any tradesman.
For me, Brick Brace is not just a product; it has provided an understanding of the task, with clear guidance on the limitations of all the equipment.
I also received very helpful advice and instructions from the guys at Brick Brace regarding my own project.
I challenge you all to find another company so invested in your own safety when it comes to structural alterations!
MORE BRICK BRACE FEEDBACK
"Excellent and Impressive product"
"Excellent thank you, very fast service, can't recommend company or product enough"
"Extremely good seller – brick brace works so well and so quick to implement"
5 stars! Fast Delivery, Fantastic product. Thank You A++++"
"Brilliant. Top job. 10/10"
"5***** Highly recommend"
"Absolutely superb. works exactly as described"
"A first class product!"
"Cracking device..should be in every builders tool kit"
"Goods as described, works well, very quick delivery, recommended!"
"Life saver no need for strongboy's anymore!"
AND MORE:
"Great item fast response, well packaged, recommended seller"
"Fantastic tool, used it for 2.4m opening in gable wall, no probs, all went well"
"I have found this tool to be fantastic I have used it inconjunction with prop mates"
"Fast delivery brilliant tool – don't be frightened of technology!"
"Fantastic product fitted 4 steels in half the time, with no extra supports"
"Good kit. fast delivery 5*"
"Truly fantastic bit of kit, genuine seller and great communication"
"Great labour saving device"
"Brilliant piece of kit. Well worth the money. Thank you"
"Great Product. Made life so easy"
"Fantastic Product"