THE AWARD WINNING BRICK BRACE SAFETY TOOL & SAFETY SYSTEM
–
Intelligent Tools For The Intelligent Builder
"The Art-form Of Altering Masonry Is 90% Preparation"
–
BRICK BRACE FEEDBACK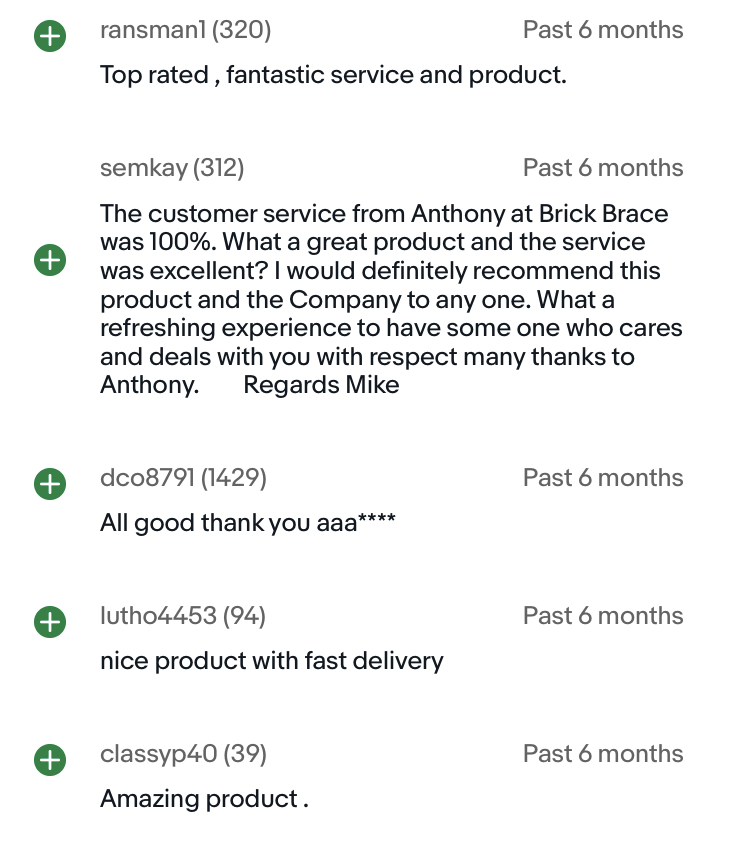 –
THE GAME CHANGER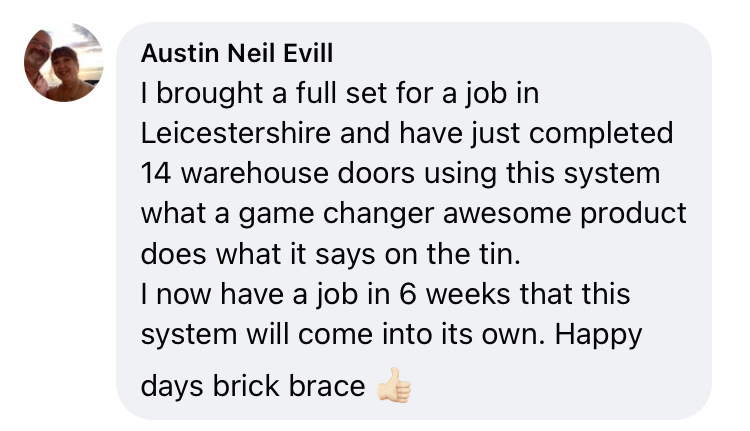 (Key-Hole Surgery; Support all of the brickwork with minimal making good)
–
Why Brace A Structure When Propping?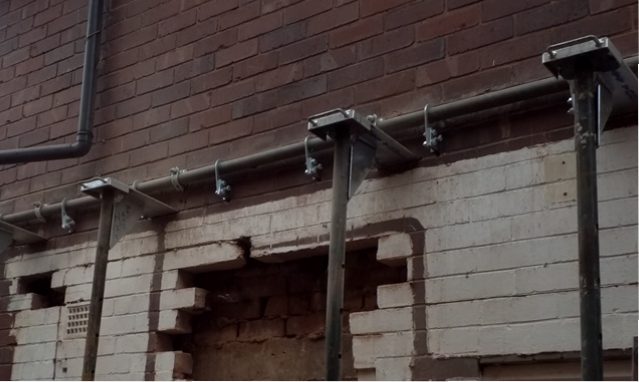 The combined working load of an eccentrically loaded Acrow prop and tongued prop attachment varies from 340Kg down to 0Kg of which will depend on the factors below;
A, the brand, size, condition and age of the Acrow prop.
B, the height an Acrow props inner tube is extended and amount of 14mm pin-hole perforations are showing above the outer tube.
C, the measurement of the eccentric load from the central-axis of the Acrow prop to the centreline of the propped wall.
D, how plumb and how tight the Acrow prop is installed beneath the wall.
When the working load of both parts vary considerably, the weight of the structure can increase to extremes and the lateral strength of the structure is also unknown, it becomes quite obvious that collapse is more than a possibility when propping with eccentrically loaded bendable tongues upon a misused Acrow prop. There is a critical difference between using sound engineering principles and using a product with a variable working load that does not address the laws of physics.
Mr S. Dunaway
 (Builder, Surrey)
 Top quality product.
"After taking the time to read and understand what the Brick Brace has to offer, I can now appreciate the impact this system can have on improving the safety of structural alterations.
After all structural alterations are the only general construction based procedures where NO training or advice is offered to any tradesman".
"For me, Brick Brace is not just a product; it has provided an understanding of the task, with clear guidance on the limitations of all the equipment.
I also received very helpful advice and instructions from the guys at Brick Brace regarding my own project.
I challenge you all to find another company so invested in your own safety when it comes to structural alterations".

FULL INSTRUCTIONS, MASONRY WEIGHT AWARENESS CHART & GUIDANCE PROVIDED WITH EVERY ORDER
2022 Propping Guide; Click HERE
Research; Click HERE
Answers To Frequently Asked Questions; Click HERE
Instructions & Download Page; Click HERE
"I can't believe I've waited so long to use this product!! Brilliant."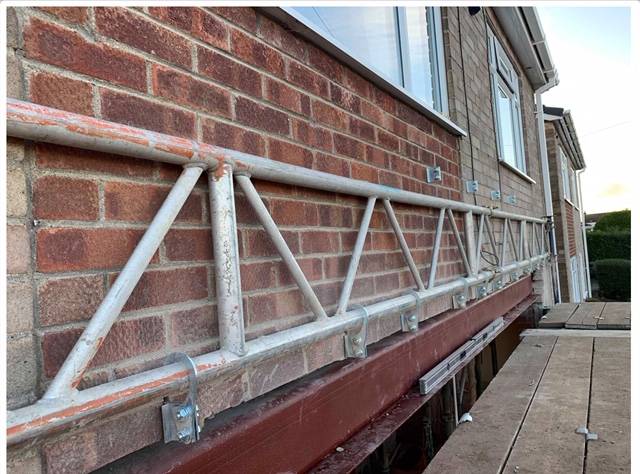 BRILLIANT! Saved a lot of time and the beam went in with very little effort and no lifting gear due to our scaffold platform. I would highly recommend this system and we will be using it for all brick opening works from now on.
J. Hoggard, Builder
East Riding Of Yorkshire
–
Every task of altering masonry is different and requires planning upon its own merit. Email us the detailed drawings of your next project and the method you would use to; sales@brickbrace.com and we will provide you with a safer option and with a superior finish.
–
The Scape-Goat Builder
Understand British Legislation and the consequences of assumed calculations.
–
An architect has the artistic freedom to design & draw any new opening size they wish upon an existing property into a rear or side extension with a few lines and a rubber and with no care of how it is done in real life.
–
For over thirty-five years structural engineers have provided the method of  out-of-date tongued prop attachments which may save time by cutting corners but also compromises the safety of the builder, work colleagues & occupiers/clients as the method doesn't allow the correct fitting/work/scaffolding access without dangerously overloading the structure above, especially when cavity sizes have increased and steels sizes enlarged.
–
Upon this assumed, generic and out of date calculation, the builder purchase/hire tongued prop attachments of which are supplied with zero written guidance and are sold by a vast majority of retailers with limited masonry alterations knowledge, and when the obvious accidents of overloading re-occur, only the builder is at fault and fined or worst-case scenario; imprisoned for corporate manslaughter where collapse causes a fatality.
–
Contact us for unbiased advice on your next project, or book an on-site demonstration.
Contact
E-mail; sales@brickbrace.com
Tel; 01895 546405
–
MORE BRICK BRACE FEEDBACK
"Excellent and Impressive product"
"Excellent thank you, very fast service, can't recommend company or product enough"
"Extremely good seller – brick brace works so well and so quick to implement"
5 stars! Fast Delivery, Fantastic product. Thank You A++++"
"Brilliant. Top job. 10/10"
"5***** Highly recommend"
"Absolutely superb. works exactly as described"
"A first class product!"
"Cracking device..should be in every builders tool kit"
"Goods as described, works well, very quick delivery, recommended!"
"Life saver no need for strongboy's anymore!"
AND MORE:
"Great item fast response, well packaged, recommended seller"
"Fantastic tool, used it for 2.4m opening in gable wall, no probs, all went well"
"I have found this tool to be fantastic I have used it inconjunction with prop mates"
"Fast delivery brilliant tool – don't be frightened of technology!"
"Fantastic product fitted 4 steels in half the time, with no extra supports"
"Good kit. fast delivery 5*"
"Truly fantastic bit of kit, genuine seller and great communication"
"Great labour saving device"
"Brilliant piece of kit. Well worth the money. Thank you"
"Great Product. Made life so easy"
"Fantastic Product"