THE AWARD WINNING BRICK BRACE SAFETY TOOL & SAFETY SYSTEM
–
Half Set
Openings up to 3,150mm (14 Brick Lengths), supporting all 91 bricks within the triangle of masonry above an opening
Full Set
Openings up to 5400mm (24 Brick Lengths)

–
Brick Brace Benefits
Further temporary support options. Simple to adapt to. Keyhole surgery for face brickwork. Full access to the task. Stabilises lime & weak mortar masonry. No Lost or falling masonry. Use at any height; high or low.
The only temporary support equipment fully tested in multiples on brickwork. Supports all of the masonry, even in lime mortars.
Guaranteed superior finish to a task. Versatile & Lightweight. No voids/traps in scaffolds. Re-instates a load point to safely reduce the weight of the load.
Instructions & help-line provided with every order.
Fit steels, Replace lintels, fit new cavity fire protection, cavity trays & D.P.C's with ease. Re-instate a load-point to reduce the weight of the load when propping. Use the Brick Brace as an under-pinning aid to strengthen & stabilise masonry and an aid for all remedial works, brickwork renovations & repairs.
THE GAME CHANGER!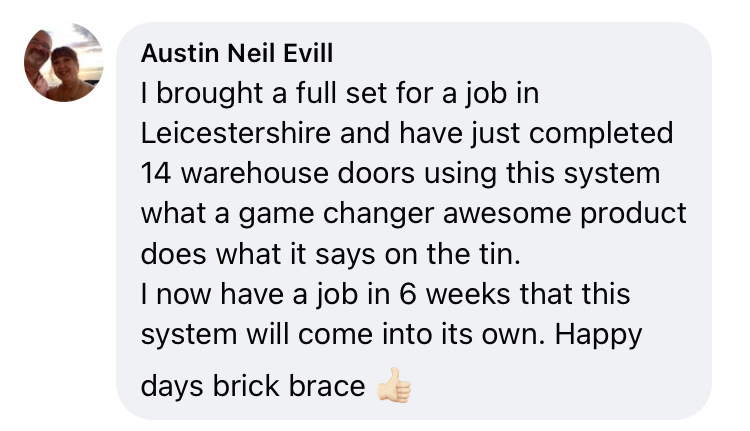 (Key-Hole Surgery; Support all of the brickwork with minimal making good)
What Is A Load-Point?
A 35 degree angle in a stretcher bond and a 25 degree angle in a Flemish bond, from both ends of the opening, carrying up to the central perpendicular joint where both angles meet is the load-point.

When an opening is made within an existing wall and a load point is intact the triangle of brickwork above the opening is the only masonry that could collapse, therefore the only masonry that requires temporary support.
–
Upon larger openings where any of the 3 points of the triangle do not remain, this law changes and the weight of the storey height sits back over the length of the opening, due to the masonry above not having the correct arching effect, this can weigh up to 10 times more than the smaller triangle of masonry.
Re-instate A load point
Fit the Brick Brace Safety tool through the broken triangle and it becomes complete, reducing the load to a minimum and safely reducing the number of props required, cost effective without compromising safety.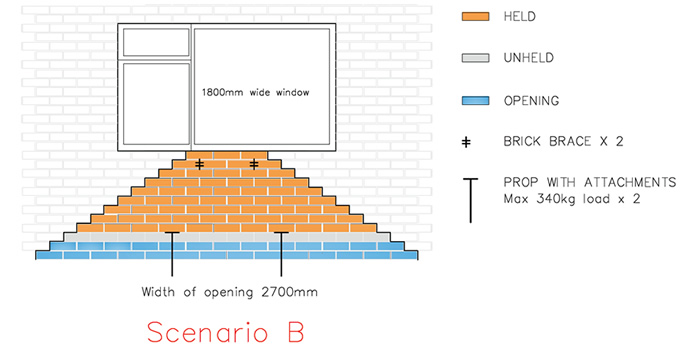 The Brick Brace Safety tool increases the variable safe working loads of all the existing propping methods and addresses all the main causes of minor and major collapse during masonry alterations.
–
We are available through e-mail to answer any question regarding temporary masonry support.
–
PROP-WISE
Designed to support the internal side when bracing the external side for access.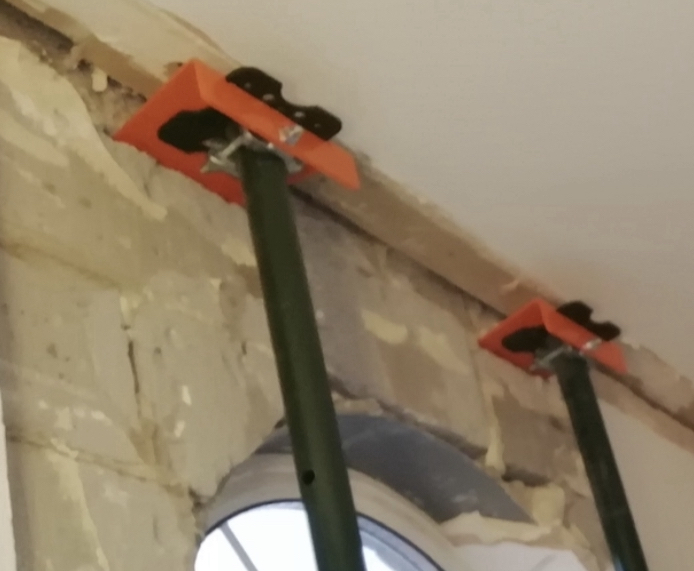 Supplied with instructions and Acrow prop guidance and is by far the safest tongued prop attachment on the market.
 –
REVIEWS
C. Harrison May 2020
So much better than the normal strongboy type, thicker steel so don't bend, the acrow slot into the propwise and then is clapped to it, which makes it sturdy and also safe as wont fall of the top of your acrows, and cheaper compared to a standard strongboy!!! I certainly feel safer working under them compared to other makes. I would strongly advise to buy these if your buying there brickbrace set up, they work perfectly together.
Mr S. Dunaway
 (Builder, Surrey)
 Top quality product.
"After taking the time to read and understand what the Brick Brace has to offer, I can now appreciate the impact this system can have on improving the safety of structural alterations.
After all structural alterations are the only general construction based procedures where NO training or advice is offered to any tradesman".
"For me, Brick Brace is not just a product; it has provided an understanding of the task, with clear guidance on the limitations of all the equipment.
I also received very helpful advice and instructions from the guys at Brick Brace regarding my own project.
I challenge you all to find another company so invested in your own safety when it comes to structural alterations".

"I can't believe I've waited so long to use this product!! Brilliant."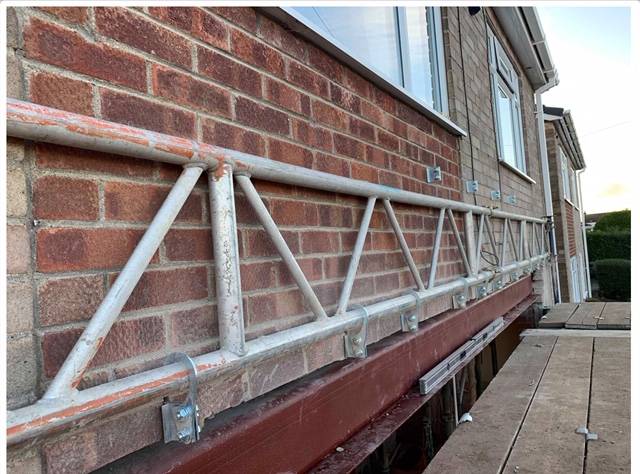 BRILLIANT! Saved a lot of time and the beam went in with very little effort and no lifting gear due to our scaffold platform. I would highly recommend this system and we will be using it for all brick opening works from now on.
J. Hoggard, Builder
East Riding Of Yorkshire
–
Contact us for unbiased advice on your next project, or book an on-site demonstration.
Contact
E-mail; sales@brickbrace.com
Tel; 01895 546405
–
MORE BRICK BRACE FEEDBACK
"Excellent and Impressive product"
"Excellent thank you, very fast service, can't recommend company or product enough"
"Extremely good seller – brick brace works so well and so quick to implement"
5 stars! Fast Delivery, Fantastic product. Thank You A++++"
"Brilliant. Top job. 10/10"
"5***** Highly recommend"
"Absolutely superb. works exactly as described"
"A first class product!"
"Cracking device..should be in every builders tool kit"
"Goods as described, works well, very quick delivery, recommended!"
"Life saver no need for strongboy's anymore!"
AND MORE:
"Great item fast response, well packaged, recommended seller"
"Fantastic tool, used it for 2.4m opening in gable wall, no probs, all went well"
"I have found this tool to be fantastic I have used it inconjunction with prop mates"
"Fast delivery brilliant tool – don't be frightened of technology!"
"Fantastic product fitted 4 steels in half the time, with no extra supports"
"Good kit. fast delivery 5*"
"Truly fantastic bit of kit, genuine seller and great communication"
"Great labour saving device"
"Brilliant piece of kit. Well worth the money. Thank you"
"Great Product. Made life so easy"
"Fantastic Product"