Brick Brace – Single Tool
Includes free delivery within the UK. International shipping is currently available to Ireland, the Untied States, Canada and Australia.
Click on photographs to enlarge.
THE AWARD WINNING BRICK BRACE SAFETY TOOL
–
GUARANTEED SAFER, SUPERIOR & EASIER MASONRY ALTERATIONS OR YOUR MONEY BACK!
Only £28.00 Inc VAT, full instructions, a correct procedure, the Brick Brace masonry weight awareness chart and 1st Class Royal Mail Delivery Anywhere Within the UK
Use a hammer drill with a 10mm masonry drill bit to remove the mortar from the required perpendicular joint. Insert the Brick Brace safety tool and engage fully to the angled plate. Tighten the centre screw with a 19mm socket spanner; the masonry is now reinforced and ready for safer alterations and superior results, guaranteed.
To Brace masonry, the force required upon the safety tool is estimated at 700N, for a safety factor of x 3 the force required in the safety tool is 2.1kN.
A recommended torque of 40Nm produces a force of 3.28kN which is more than adequate even allowing for some fall off in force as the tool beds in. This torque is also readily achievable on site and was also used in the test via a ratchet spanner. It also provides a force well below that to crush the end faces of the brick. When bricks were removed from below there was no distress whatsoever, no visible movement or cracking which suggested that the calculations are very reasonable.
–
Anyone that uses the Brick Brace safety tool that does not benefit from its use we promise a full money back guarantee. We ensure every user has the information to tackle every task safely as we supply full instructions & a correct procedure with every order and also provide a further help-line so no assumptions of use need to be made.
We have studied temporary masonry support for many years and our fully patented method of strengthening masonry is the further preparation required for safer and superior results, GUARANTEED.
If you have any other questions, just ask our temporary support expert Anthony on his mobile; 07545 462463 .
We created the Brick Brace to provide further options, to counter act all of the hidden problems of eccentrically propping, to make alterations more controllable, safer and easier during the task and to ensure future generations are taught correctly.
Research;  Identifying Hidden Risks; Click HERE
All propping methods rely on the unknown lateral strength of the masonry to work correctly, the Brick Brace is designed to strengthen and stabilise masonry, to prevent collapse.
–
BRICK BRACE BENEFITS
Simple to adapt to
Re-instates a load point to safely reduce the weight of the load
Improves Masonry Alterations knowledge
Providing further temporary support options
Keyhole surgery for face brickwork
Full access to the task
Ensures future generations are taught safely & correctly
 Use at any height, high or low
 Stabilises lime & weak mortar masonry
Fully tested in multiples
 Supports all of the masonry, even in lime mortars
Guaranteed superior finish to a task
Versatile & Lightweight
Raises the standards set within temporary support works
Also use when propping for total control of a task
Increases a Strongboy's variable & unknown S.W.L.
Protection against minor collapse in-between props
Allows a prop to be manoeuvred safely during a task
Reducing the number of props required
Pays for itself within two applications
Reduced Repair time
Easy To Store/ Fits in a tool bag
Reduced carbon footprint
Designed & Manufactured in Great Britain.
Superior results and time saved
 GUARANTEED
–
RESEARCH, Click Here
The award winning Brick Brace, our guidance and  masonry weight awareness charts address all the main causes of minor and major collapse.
The tongued prop attachment has falsely eased a difficult task due to thirty years of insufficient warnings & misleading instructions, increasing the risk of the user to overload a structure and suppressing the true level of knowledge required to carry out masonry alterations correctly.
EXAMPLE
Load-Point
Which masonry requires support?
–
A 45 degree angle upon half bonded block work, a 35 degree angle in a Stretcher bond and a 25 degree angle upon a Flemish or English bond, from both ends of the opening, carrying up through the bed and perp joints to the central perpendicular joint where both angles meet is the location of a load-point.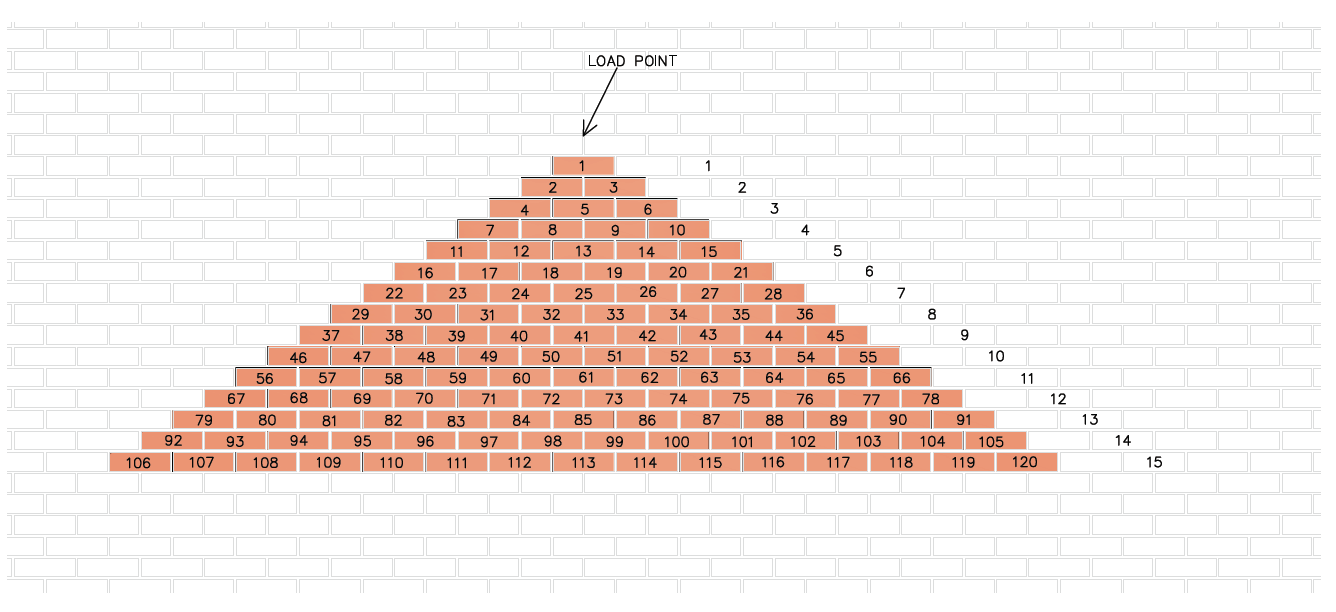 When an opening is made within an existing wall and a load point is intact, the triangle of brickwork above the opening is the only masonry that could collapse, therefore this is the only masonry that requires temporary support.
–

This small triangle of masonry is also what Strongboy's were designed to support when fitted 900mm apart and used within the 215mm maximum eccentricity.
–
Upon larger openings within a typical two storey residential property and any of the 3 points of the triangle do not remain, this law changes and all of the weight of the storey height above will rest back over the length of the opening (including roof loads, when they apply) due to the masonry above not safely arching.

This masonry can weigh up to 10 times more in most cases than just the smaller triangle and is why Strongboy's are so easily overloaded upon wider openings.
–
Fit the Brick Brace to reinstate a load-point, as shown within the drawing below to safely reduce the weight of the load back to the small triangle of masonry and to minimise the amount of impeding Strongboy's required without dangerously overloading the equipment.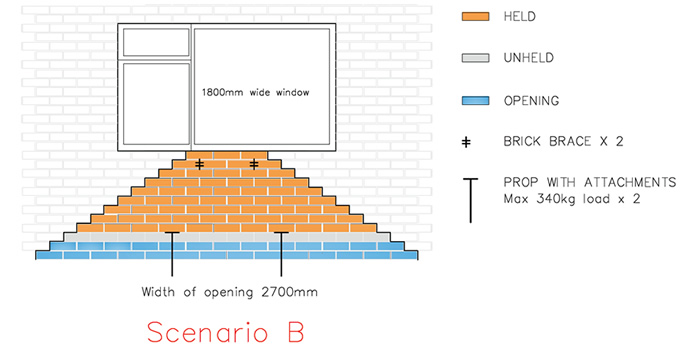 (Scenario C below, shows the Brick Brace Safety System being used within a lime mortar mix)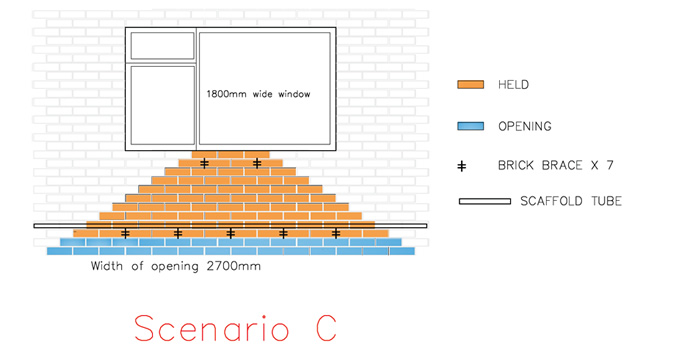 The Brick Brace Safety tool, weight charts, correct procedures & proven strategies address all the main causes of minor and major collapse during masonry alterations.
Please view our masonry weight awareness chart for further guidance.
Related Products