Brick Brace – Half Set
Includes free delivery within the UK. International shipping is currently available to Ireland, the Untied States, Canada and Australia.
THE BRICK BRACE SAFETY SYSTEM
(HALF SET)
6 safety tools, 6 hooks, 4 coupler's, anchor bolts, Instructions, guidance and free prompt UK delivery.
(Scaffold tube not included)
GUARANTEED SAFER, SUPERIOR & EASIER MASONRY ALTERATIONS OR YOUR MONEY BACK!
The stability & lateral strength of a structure is unpredictable & varies upon each project; depending on the length of the opening, the masonry mortar mix, the age/deuteriation & the quality of the masonry workmanship. Lime mortar masonry having minimal lateral strength, if any.
We created the Brick Brace to provide further options, to counter act all of the hidden problems of eccentrically propping, to make alterations more controllable, safer and easier during the task and to ensure future generations are taught correctly.
Research;  Identifying Hidden Risks; Click HERE
–
LIGHT YEARS AHEAD
The award winning Brick Brace safety tools are inserted into drilled out mortar perpendicular joints and tightened with a 19mm ratchet spanner, increasing the unknown lateral strength of bonded lime & cement mortar masonry with a force of 40Nm which through vigorous testing is proven to be strong and stable enough to prevent collapse.
–
The Half set offers openings up to 3,150 mm, approx 14 brick lengths with no Acrow props or Strongboys to impede access, supporting all  91 bricks within the triangle of masonry above the opening, (Stretcher bond), at any height high or low.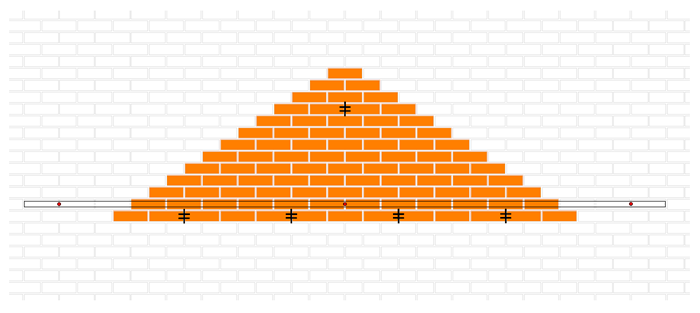 Fitted 3 bricks apart in a cement mortar mix, a maximum of 2.5 bricks apart within a lime or weak mortar mix and within every perpendicular joint upon block work.
BRICK BRACE BENEFITS
Simple to adapt to
Improves Masonry Alterations knowledge.
Providing further & safer options
Keyhole surgery for face brickwork
Full access to the task
Ensures future generations are taught safely & correctly
 Use at any height, high or low
 Stabilises lime & weak mortar masonry
No Lost or falling masonry
Fully tested in multiples
Supports all of the masonry, even in lime mortars
Guaranteed superior finish to a task
Versatile & Lightweight
Full access for correct scaffolding
Raises the standards set within temporary support works
Re-instates a load point to safely reduce the weight of the load
Pays for itself within two applications
Minimal Making good
Easy To Store/ Fits in a tool bag
Reduced carbon footprint
Designed & Manufactured with British steel in Great Britain.
Superior results and time saved GUARANTEED!
To Brace masonry, the force required upon the safety tools is estimated at 700N, for a safety factor of x 3 the force required in the safety tool is 2.1kN.
A recommended torque of 40Nm produces a force of 3.28kN which is more than adequate even allowing for some fall off in force as the tool beds in. This torque is also readily achievable on site and was also used in the test via a ratchet spanner. It also provides a force well below that to crush the end faces of the brick. When bricks were removed from below there was no distress whatsoever, no visible movement or cracking which suggested that the calculations are very reasonable.
Related Products