Brick Brace – Half Set
Includes free delivery within the UK. International shipping is currently available to Ireland, the United States, Canada and Australia.
SPECIAL OFFER! - GET 10% OFF YOUR ORDER TOTAL WHEN YOU BUY TWO OR MORE OF THESE (just add two or more to your basket and receive your discount on checkout).
THE BRICK BRACE SAFETY SYSTEM
(HALF SET)
6 safety tools, 6 hooks, 4 coupler's, anchor bolts, Instructions, guidance and free prompt UK delivery.
(Scaffold tube not included)
GUARANTEED SAFER, SUPERIOR & EASIER MASONRY ALTERATIONS
–
The Half setsupports openings up to 3,150 mm, approx 14 brick lengths with no Acrow props or Strongboys to impede access, supporting all  91 bricks within the triangle of masonry above the opening, (Stretcher bond), at any height high or low.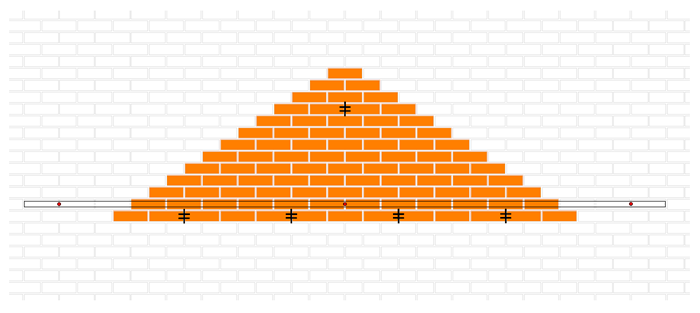 Half Set Procedure
1. Drill & fit couplers at both ends, min 120mm past the opening & measuring 120mm above the opening. When opening is wider than 2250mm, also drill and fit a central coupler 120mm above the opening
2. Fit scaffold tube and tighten couplers.
3. Remove the required joints; maximum of three bricks apart in a cement mortar mix and a maximum of two and a half bricks apart within a weak or lime mortar mix.
4. Fit hooks over the tube at the drilled-out perp positions, fit safety tools into prepared perps, remove both nuts, secure hooks onto tools, refit nuts and tighten the tools max 40Nm.
BRICK BRACE BENEFITS
Simple to adapt to
Improves Masonry Alterations knowledge.
Providing further & safer options
Keyhole surgery for face brickwork
Full access to the task
Ensures future generations are taught safely & correctly
 Use at any height, high or low
 Stabilises lime & weak mortar masonry
No Lost or falling masonry
Fully tested in multiples
Supports all of the masonry, even in lime mortars
Guaranteed superior finish to a task
Versatile & Lightweight
Full access for correct scaffolding
Raises the standards set within temporary support works
Re-instates a load point to safely reduce the weight of the load
Pays for itself within two applications
Minimal Making good
Easy To Store/ Fits in a tool bag
Reduced carbon footprint
Designed & Manufactured with British steel in Great Britain.
Superior results and time saved GUARANTEED!
–
Anchor-bolt fixing instructions; drill pilot holes by using an 8mm masonry drill bit at a minimum 80mm depth, an over drill of 10mm to allow for dust and debris collection. Place provided washer onto the re-usable anchor bolt and pass through the coupler and into the pilot hole, use a 15mm socket wrench, apply downward pressure, this helps to start the self-tapping action. If resistance is felt, unscrew the bolt one turn then continue to re-tighten.
To expand the tool; use a 19mm spanner/torque wrench to tighten the central set screw approximately 40Nm. Ensure both plates of the tool run parallel with each other. Repeat the process on each tool in sequence from left to right until all tools are fitted & tightened. To increase tool life, do not hammer tools home when joints are tight, use either a mechanical mortar-raker or a serrated file to increase joint size. 
Cutting out to fit a permanent support
Remove the masonry beds within a cement mortar mix by stitch drilling and a light set hammer drill with the correct chisel fitting to remove brickwork carefully. No club hammers as this only weakens a structure. A masonry saw or a traditional hand saw is sufficient in a lime or weak mortar mix and cut out the minimum depth of the opening to fit the permanent support at this stage.
Lintels;
once the lintel is fitted, including cavity trays and soldier courses where required, carefully remove the rest of the opening in full. When fitting within existing face brickwork, ensure the lintel has minimum bearings of 225mm; this extra bearing will help support the lintel over the eventually toothed out brickwork below when removing the rest of the opening in full and when bonding the new reveals into the existing face brickwork. Fit/drill suitable vertical wall ties within both reveals every 225mm throughout the height of new opening.
Steel beams;
Once steels have been correctly fitted and packed and the mortar cured, remove the rest of the opening to the full depth. The Brick Brace can be released by reversing the fitting method, make good/re- point the drilled perp joints. Clean the Brick Brace safety tools with a damp cloth and dry ready for storage or for further use.
Additional tools required for best results;
4" grinder fitted with a m14 mortar raker,
9-12" disc cutter,
masonry saw,
hammer drill,
8, 10 & 11mm masonry drill bits,
13/15/19/21mm sockets, ratchet/torque wrench.
We Are Here To Help You Adapt!
For unbiased advice regarding any masonry alterations task contact us;
Tel; 01895 546405
Or
Call Anthony On; 07545 462463
E-mail; sales@brickbrace.com
To help us help you, please read our 2023 masonry wall propping guide to ensure you give us sufficient information of your task.
 Or
Book A Brick Brace Demonstration On your own project, from as little as £720.00, Includes ½ day training, the Brick Brace Full Set and VAT.
–
We created the Brick Brace to provide further options, identifying and controlling the hidden risks of eccentrically propping, to make alterations easier to plan, to be more controllable, safer, easier and to ensure future generations are taught correctly.
Research;  Identifying Hidden Risks; Click HERE
Related Products