Brick Brace – Full Set
The Brick Brace Safety System Full Set
Free Delivery within the UK
 THE AWARD WINNING 
BRICK BRACE SAFETY SYSTEM
FULL SET
12 safety tools, 12 hooks, 6 half couplers, anchor bolts, prompt delivery, full instructions and a correct procedure.
(Scaffold tube not included)
GUARANTEED, SAFER, SUPERIOR & EASIER MASONRY ALTERATIONS OR YOUR MONEY BACK!
30 DAY FREE TRIAL!
–
BRICK BRACE BENEFITS
Simple to adapt to
–
 Improves Masonry Alterations knowledge
–
Providing further temporary support options
–
Keyhole surgery for face brickwork
–
Full access to the task
–
 Use at any height, high or low
–
 Stabilises lime & weak mortar masonry to prevent collapse
–
No Lost or falling masonry
–
The only temporary support equipment fully tested in multiples on brickwork
–
 Supports all of the masonry, even in lime mortars
–
Guaranteed superior finish to a task
–
Versatile & Lightweight
–
No voids/traps in scaffolds
–
Raises the low standards set within temporary support works
–
Also use when propping for total control of a task
–
Increases the variable & unknown S.W.L of tongued prop attachments
–
Protection against minor collapse in-between props
–
Re-instates a load point to safely reduce the weight of the load
–
Allows a prop to be manoeuvred safely during a task
–
Safely minimising the number of props required
–
Pays for itself within two applications
–
Minimal Repair time
–
Easy To Store/ Fits in a tool bag
–
Reduced carbon footprint
–
Designed & Manufactured with British steel in Great Britain
–
Superior results and time saved
 GUARANTEED
–
All existing propping methods weaken the lateral strength of the masonry and then rely upon this weakened masonry to work safely, the Brick Brace is the only method that strengthens and stabilises the masonry to prevent collapse.
–
The fully tested Brick Brace safety tool increases the unknown & variable strength of bonded lime & cement mortar masonry to 40Nm which through testing is proven to be strong and stable enough to prevent collapse.
–
The Brick Brace is designed to offer further & safer options, to give superior results with a safer fitting/working access and when used in-conjunction with existing propping methods the Brick Brace supports all of the un-held masonry in between props and also helps to avoid collapse through overloading.

-
The Brick Brace safety system allows openings up to 4,500mm (20 brick lengths) when using only one Acrow prop fitted central & clipped to the horizontal scaffold tube and up to 5,400mm  with full fitting access when using a 6 metre aluminium scaffold beam.

(Photo taken with a panoramic lens)
–
Also used as a safety belt above openings when propping or needling to hold the brickwork in-between props and to help reduce the risk of collapse through overloading.
–
 Support masonry as one whole piece rather than as individual bricks in the case when only propping especially within lime mortar masonry.
–
Fitted 3 bricks apart in a cement mortar mix, a maximum of 2.5 bricks apart within a lime or weak mortar mix and within every perpendicular joint within block work.
–
 Pre-stress masonry with the Brick Brace prior to alterations and support 100% of the masonry above the opening, gain further fitting space, reduce repair time and achieve a guaranteed superior and safer finish.
–
It's not possible for a Strongboy or any similar designed product to give the correct fitting work access for every task without dangerously overloading the structure, further equipment should also be used which is why we created the non intrusive Brick Brace Safety Tool and Safety System.
–
Please view our 2020 propping guide for further information!
–
RESEARCH
1
The stability & lateral strength of masonry varies upon every task of which depends upon the length of the opening, the mortar mix, the age & the quality of the masonry. To work correctly & safely a Strongboy relies upon the unknown strength of masonry.
2
The safe working load of a Strongboy varies upon which sized Acrow prop and which pin hole height is being used, how tightly the Acrow prop is fitted, how plumb and how far the Acrow prop is positioned from the centre line of the wall.
3
The many different tasks of masonry alterations require far more fitting/working access than what the Strongboy can safely offer without dangerously overloading itself.
To avoid collapse an eccentrically overloaded Acrow prop is solely relying on the unknown lateral strength of the masonry. To reduce the risk of minor & major collapse when propping with Strongboy's the Brick Brace should also be used to increase the unknown lateral strength of the masonry to 40Nm which is proven through vigorous testing to be strong & stable enough to prevent collapse during alterations.
4
A Strongboy misuses an Acrow prop due to the severe eccentricity of the load and also changes the direction of the load onto the side of the Acrow props inner tube of which is designed for vertical loads only, from the head plate down to the foot plate.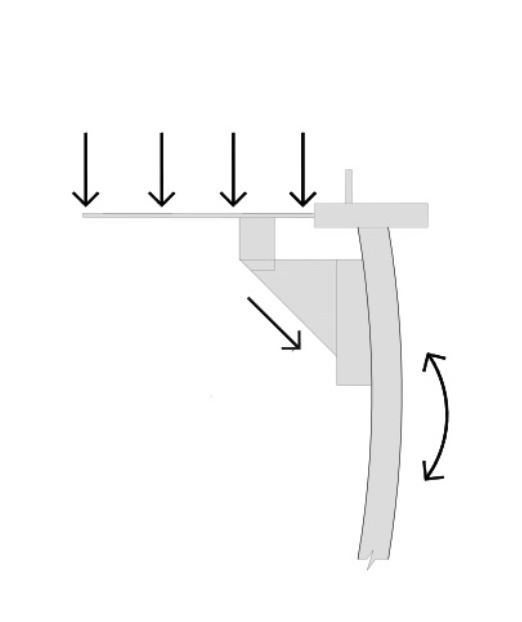 An eccentrically loaded Acrow prop curves and loses height when overloaded or over tightened which is the legal duty of the user not to overload and to work with an Acrow prop fitted with a Strongboy in a safe and professional manner even though no warning of this is in place. 
–
The Brick Brace knowledge, guidance, correct procedures, weight charts and proven strategies address all the main causes of collapse during masonry alterations and will keep you within the Construction, Design & Management 2015 guidelines of which now also covers small  domestic projects.
 Regulation 19
(Stability of structures)
 All practicable steps must be taken to prevent danger, ensure that any new or existing structure does not collapse or become unstable due to the carrying out of construction work.
 Temporary support must be designed, installed and maintained to withstand foreseeable loads and only used for the purposes for which it was designed for. A structure must not be loaded as to render it unsafe to any person.
Work within health and safety guidelines; respect your legal responsibilities and respect the welfare of others around you.
Related Products