​
Trial Set £80.00
Clear access on Openings up to 1800mm in a lime mortar mix and up to 2250mm within a cement mortar mix
 Half set £150.00 
Openings up to 3,150 mm (14 brick lengths) at any height high or low, with full access to the task.

Full Set £275.00
The Brick Brace safety system allows openings up to 4,500mm (20 brick lengths) when using only one Acrow prop fitted central and scaffold clipped to the horizontal scaffold tube.  
Openings up to 5,400mm  with full fitting access when using a 6 metre aluminium scaffold beam over the opening.

Also use above openings when propping or needling to hold the brickwork in-between props and support the masonry as one whole piece to reduce the risk of minor & major collapse.
Prop-Wise is supplied with full instructions and Acrow prop guidance and is by far the safest tongued prop attachment on the market.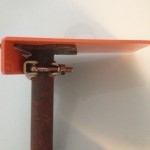 Please view our "what is Brick Brace" page for further uses.
–
Purchase and use with confidence after reading  our feedback & reviews.
HELP LINE
CALL ANTHONY ON 07545-462463
–
Use as a safety belt above openings when propping or needling to hold the brickwork in-between props.
The Brick Brace improves the variable safe working load of all existing temporary support methods.
–
The Variable Safe Working Loads (S.W.L)
–
A plumb Acrow prop, concentrically loaded from head plate down to foot plate, maximum S.W.L 3,400kg and reduces down to 600kg when the inner tube is fully raised.
– 
The Props & Needle method, maximum  S.W.L 1,700kg, exactly half that of an Acrow prop, reducing down to 330kg when the inner tube is fully raised. 
–
An Acrow prop fitted with a Strongboy, maximum S.W.L 340kg, 10% of a correctly used Acrow prop and can reduce down to 0kg depending on the working height of the Acrow prop, how plumb and how far it's positioned from the wall.
–
We recommend using the Brick Brace when possible to help reduce the weight of the load and to aid support of all of the brickwork even when propping, especially lime mortar masonry.
–
Drill out the required perpendicular joint/s with a 10mm masonry drill bit. Insert the Brick Brace safety tool/s  and engage fully to the angled plate. Tighten the centre screw with a 19mm socket spanner; the masonry is now reinforced and ready for safer alterations and superior results when propping, guaranteed.
C.R.O.S.S.
Confidential Reporting On Structural Safety.
When carrying out temporary needling and propping one of the most important aspects is to ensure that the props are concentrically loaded and plumb.
–
The use of a steel bracket on top of the prop giving a minimum eccentricity of 200 mm would not seem to be such a good idea?
–
Interestingly such a product does exist and has proved very popular with builders who see it an advantage to prop only one side of a wall.
– 
The prop is sold and hired from builders' merchants with minimal safety instructions and is potentially unsafe due to bending moments being introduced by this product into Acrow props designed only for axial compression. Any device that modifies the behaviour of props by introducing bending moments is potentially hazardous.
–
Another reporter has come across these in use and in his view they must only be used in the case of limited openings where the masonry can arch over leaving only a small triangle of masonry below the arching that can potentially break away.
 –
All in all these are for light use only and never for heavy shoring. The reporter thinks that the manufacturers, and possibly the hire companies, would be negligent if they did not provide some guidance on the use of such props.
–
Another reporter has frequently seen builders using props with cantilevering head-plates which cause the supporting props to bend. Some years ago he photographed a set of such props which had very noticeable curvatures. The wall above had dropped in consequence causing damage to the building and resulting in a substantial claim against the builder. The reporter generally advises builders not to use such head-plates.
–
Correct propping is essential and temporary works failures are a recurrent theme on site. It appears that this type of prop should only be used in specific low risk circumstances which have been examined by a competent person. Temporary supports must be used in accordance with the manufacturer's guidelines and a prop should not be adapted without formal agreement of the appropriate responsible person on site.
Structural Engineers Cambridge Ltd
(Taken from their website)
Strongboy Heads
A common method in small projects is to use "Strongboy" heads. These are fabricated steel fittings that fit over the top plate of an Acrow prop to give a projecting spade-like blade. This is inserted into a slot cut into the bed joint of a masonry wall, so that the wall can be supported while the prop does not have to be directly below the wall.
The convenience of this method is undeniable, but due to the limited load capacity of these devices their safety is too often overestimated or taken for granted. The manufacturer's stated load capacity is 340kg, which amounts to about one square metre of brick and block cavity wall. This means that you would need supports every 450mm to avoid overloading the Strongboy heads. For solid 9″ brickwork, the supports would need to be virtually touching each other!
In practice, the supports are normally spaced at one metre intervals, and the props are overloaded, causing cracking to the supported wall and bending the blades of the Strongboy heads. I have experienced several cases where unwitting builders have caused extensive damage using this method, and I believe that insufficient information on their proper use is provided when they are purchased or hired.