​
Prices Are Plus VAT 
(Free UK Delivery)
Trial Set £80.00 
Clear access on Openings up to 1800mm in a lime mortar mix and up to 2250mm within a cement mortar mix
 Half set £150.00 
Openings up to 3,150 mm (14 brick lengths) at any height high or low, with full access to the task.
Full Set £275.00
The Brick Brace safety system allows openings up to 4,500mm (20 brick lengths) when using only one Acrow prop fitted central and scaffold clipped to the horizontal scaffold tube.  
Openings up to 5,400mm  with full fitting access when using a 6 metre aluminium scaffold beam over the opening.

Also use above larger openings when needling, to hold the brickwork in-between props and to support the masonry as one whole piece to reduce the risk of minor & major collapse.
Instructions & Downloads, Click Here
 –
PROP-WISE
Supplied with instructions and Acrow prop guidance and is by far the safest tongued prop attachment on the market.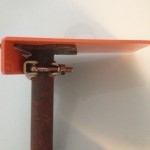 –
Purchase and use with confidence after reading  our feedback & reviews.
HELP LINE
CALL ANTHONY ON 07545-462463
–